If you're considering buying ceramic tiles for your home or commercial premises, you'll quickly discover their advantages over other materials. Not only are they an affordable choice, they're also low maintenance, and easy to install.
Manufacturers are proud of ceramic tiles' eco-friendliness. Moreover, tiles add value to your investment in your home, and are suitable for any style of décor.
Eco-friendly ceramic tiles are sustainable
Since they're primarily made of clay, ceramic tiles are a sustainable and eco-friendly material for walls and floors.
Clay is available everywhere on the planet, so people have used it for building and crafting for thousands of years.
Did you know that the ancient Egyptians used decorative ceramic tiles six thousand years ago? As a testament to the tiles strength and durability, mosaics made of ceramic tile have been uncovered in the ruins of Pompeii: you can view them today.
Let's look at why ceramic tiles may be creating a new era in interior design.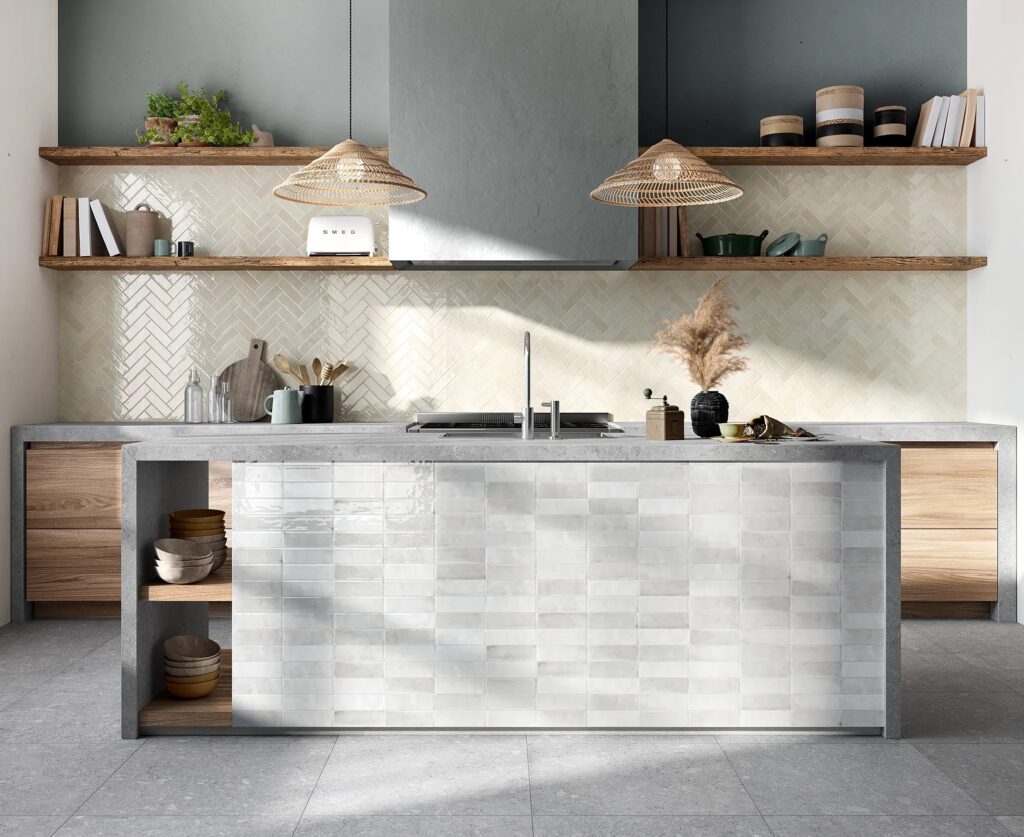 1. Appearance: tiles can enhance any home
You want your home to be beautiful, and most importantly, to retain that beauty. Today, ceramic tiles can be used to beautify many areas of your home, including outdoor areas, garden areas and swimming pools.
Manufacturers continue to innovate, with attention-getting colours, designs, textures, and shapes. Not only can tiles be manufactured to look like wood and stone, they're available in a stunning range of colours in many variations.
Whether you choose the latest in printed wallpaper design tiles, or unique, handmade tiles, you can create the look you want for your home.
For example, if you're longing for elegance and style, the art deco style remains a sophisticated choice. Look for glamorous geometric designs, lightly touched with gold. The movie The Great Gatsby provides inspiration if you love art deco: consider glossy black and white tiles in wet areas, as well as in the living areas of your home.
2. Durability: if tiles can survive an erupting volcano, they can survive kids and pets
If you have children, you may be fearful that ceramics are delicate: kids tend to be hard on table china. However, you needn't be concerned that that loud crash you just heard is splintered ceramic tiles — ceramic floor and wall tiles can handle kids and pets. Expect them to last several decades at least.
Any spills and messes can be cleaned quickly, and tiles won't mark or stain, even if your child drops a bottle of ink onto the tiled floor.
Is a family member allergic? Unlike carpets, ceramic tiles won't harbour dust mites, mould, and pollen. They're hard-fired and simple to clean (use a wet cloth or sponge), so they're a good choice for allergy sufferers.
3. Budget-friendly: timber looks without the expense
Although ceramic tiles have a high-end appearance, they're budget-friendly. If you love the look of timber or stone floors, you can now get those looks from ceramic tiles, and be proud that you're choosing a sustainable option.
When considering your budget, be aware that there's a difference between ceramic tiles, and porcelain tiles, although both are "ceramic". Porcelain tiles are made of finer, denser clay, and fired at higher temperatures. This can make them more expensive, however they're the best choice in some situations: be advised by your retailer.
4. Easy to clean: give them a wipe, and they're like new
Who has time to clean? Few of us do. We're all looking for home finishes which can be cleaned easily and well. With ceramic tiles, a quick sweep and a swish with a damp mop will keep your floors clean.
This is one of ceramic tiles' major advantages. Not only are they easy to clean, they're hygienic too. They're durable and high-fired in kilns, so they're inhospitable to the growth of bacteria and mould: an ideal choice for homes with allergy sufferers.
If you have very young children who crawl around and play on the floor, you'll be relieved you don't need to use chemicals to clean — water is usually sufficient to clean ceramic or porcelain tiles.
5. Low maintenance, no matter the climate
Your ceramic tiles will last for decades. Unlike other materials used for walls and floors, they won't deteriorate or fade due to humidity or sun damage.
They can manage extreme temperatures, because they expand and contract as the temperatures change, and aren't affected. Your tile installer will be aware of temperature fluctuations in your area, so will use appropriate materials when installing your tiles.
Got questions? Visit your local retailer to get advice
New tile collections come onto the market regularly. If you're renovating, and want ceramic tiles for your walls and floors, visit your local retailer. Similarly, if you're building a new home, see your retailer to check out the many options.