Are you looking for the best  Wax Sealing Kit? These kits are a popular option for adding a little bit of individualisation to crafts, letters, and invitations since they have an air of refinement and nostalgia. Selecting the appropriate wax sealing kit for your needs requires taking into account a number of different factors. This complete guide will assist you in selecting the ideal wax sealing kit.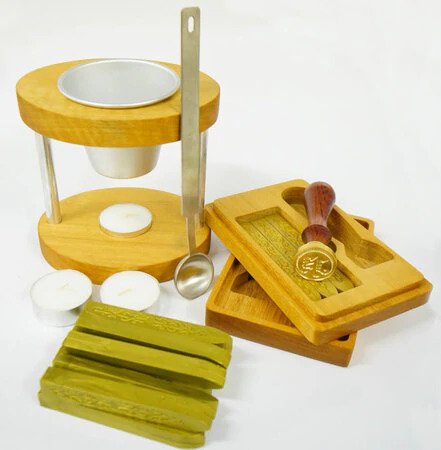 · Frequency and Purpose
Choose the intended use for your Wax Seal Kits. Do you utilise it frequently for professional purposes or only occasionally for personal correspondence? The kit you choose may need to be more robust and effective for regular sealing, so keep that in mind while making your selection.
· Wax Style and Color
Think about the type and colour of wax you wish to use. There are many colours and even metallic finishes available in wax. Pick a hue that goes well with your stationery or the overall design you want. Some kits also include personalised wax seals with symbols, initials, or patterns that match your style or the event.
· Type of Wax
Different varieties of wax, including flexible wax, classic wax sticks, and glue gun wax, are included in wax sealing packages. Conventional wax sticks need melting, while glue guns and flexible wax are more efficient and convenient. Select a type of wax that is easy to use and better suits your preferences.
· Ease of Use
Think about how simple it is to use, particularly if wax sealing is new to you. Certain kits come with easy-to-use tools, such as glue gun wax, that make sealing quick and clean. Select a kit based on how comfortable you are with the sealing procedure.
· Seal Sizes and Design
The wax sealing kit's size and style can significantly alter the overall appearance. While some kits offer customised possibilities, others come with standard designs. Select a design that complements your style and intended use. Consider the size of the seal when choosing one; larger seals can be more detailed, but they might not work well on tiny envelopes.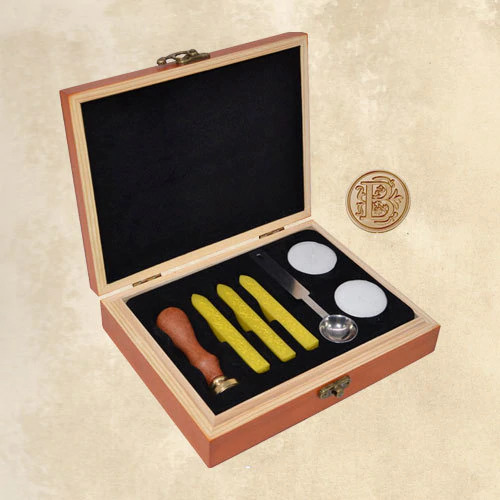 · Kit Components
Examine the parts that come with the wax seal kits. Typically, a basic kit comes with a seal, a melting spoon, and wax sticks. More comprehensive kits may include extra supplies like ornamental embellishments, wax beads, and even a glue gun. Pick a kit that has all the instruments you'll need for your sealing tasks.
· Budget
Budget for the wax sealing supplies you'll need. Costs might differ dramatically depending on the materials used, degree of customisation, and extra equipment that is supplied. Although more expensive kits may be of superior quality, less expensive kits can also produce acceptable results.
· Quality of Seal and Tools
Examine the seal and the kit's tools for quality. The tools should be sturdy and useful, and the seal should be expertly designed to leave clear impressions. Examine reviews or ask for advice to be sure you're purchasing a high-quality kit.
· Customisation Options
Think about kits that provide modification possibilities if you want to make unique seals. To add even more personalisation to your wax seals, several providers let you design unique designs, logos, or initials on custom seals.
· Presentation and Packaging
When thinking about purchasing a wax sealing kit, the way it is presented and packaged can be crucial. Seek for kits that are presented in tasteful boxes or packaging, as this can improve the whole experience.
Conclusion
You can choose a wax sealing kit that fits your needs, preferences, and style by taking these things into account. With the correct wax sealing equipment, you can elevate your creations and have a pleasurable sealing experience, whether you're making memorable crafts or giving invitations a timeless touch.
Seals 4 You is a reputed Australian-based wax sealing kit provider. They offer personalised options to their customers where they can design their own wax seal that too free of cost. You can also get 12 12-month replacement guarantee on their products. For more information Our Contact Us. Now !!!